Today Robert has an entertaining story from a foreign land. He's hard to keep up with. This year alone he's been in 8 countries on 3 continents. You may remember his series earlier this year on playing golf in this fascinating country. If you missed it, you can find it here. Today he's going to tell us about the interesting gym he's been working out at…
[ —- Begin Story —- ]
Thanks Chris. I stumbled upon this gym as I was walking though the sports complex near El Estadio. It's very impressive with an Olympic size pool, a 400m track, basketball courts, tennis courts, and of course campos de futbol (soccer fields).
Basically anything you can think of is there. And the best part is that it's open to the public. You just have to check the schedule because not all of it is open to the public at all hours – only for certain hours.
Anyway, as I was walking to the track one day from some sprint training, I happened to look to my left at the right time and noticed what is called a "gimnasio urbano" or an urban gym in English. Here's the sign: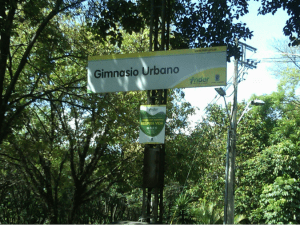 It was early in the morning – about 7am – and there weren't many people there. I have to say – I've never seen a gym like this in my life. It has most of the typical things you'd find in a gym: weights, benches, squat racks, and stations to do dips, pull-ups, and sit-ups.
What's unique about it this gym though is that it's outside. That and the fact that the weights are made of cement! It seemed like the type of gym Fred Flintstone might workout at. Here's a photo of one of the weights: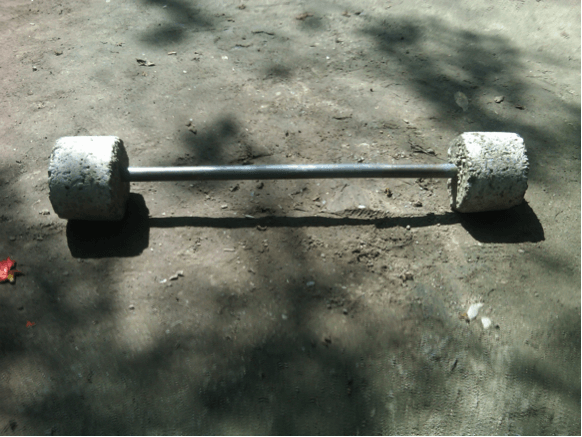 Personally, I'm more into bodyweight exercises these days. I did pick the weight up though and trust me it's heavy! You don't want to drop these weights on your head or your feet. They come in various sizes too. Here's a few shot of the whole gym…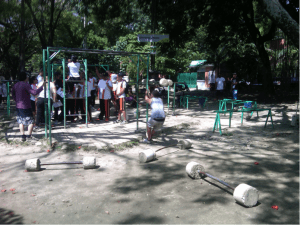 I had my jump rope with me so right then and there I stopped and created a nice 20 minute workout. And I've been hitting that gym every other day for a few weeks now. I love it!
It's a unique gym with character. If you didn't know or haven't guessed I'm in Medellin, Colombia, these days – obviously I'm in a Spanish speaking country right? Surely you figured that out from "gimnasio urbano"!
The weather is perfect here every day and it's near the equator so there are no seasons. The temperature ranges from about 60 degrees in the morning to 80 degrees in the afternoon day after day after day – just like Groundhog Day.
There are a few "rainy seasons" but it's a bit like Florida if you're familiar with the Sunshine State. The rain is usually later in the afternoon. It may rain hard for an hour or two, then it clears up and your back to sunshine. So the "rainy season" isn't so bad.
Back to the "urban gym." The best thing about this gym is the price. $0 down and $0 per month. No initiation fees. No cancellation fees. No automatic credit card charges. And as far as I know it's open 24 hours per day – although I'm not sure I'd want to be working out there too late at night! I tend to go in the morning.
If nothing else, this just goes to show you that you don't need a gym membership to get a good workout in. Like I said, I rarely use weights anymore. I'm more focused on bodyweight exercises these days. And frankly you can get in a good workout in the comfort of your own home.
Here's Chris with a simple home workout that focuses on building the strength and endurance of your "golf muscles"…
[ —- End Story —- ]
Wow! Robert finds some of the most unique places in the world. These Fred Flintstone weights aren't that much different than my first weight set (or probably yours).. you know, the plastic coated cement ones you would get for around $70 to $80… oh how far we've come! Well, weight is weight right?
Anyway, here's a good workout that you can do at home with a kettlebell or dumbbell.
I did this short workout in my home gym yesterday.
Even though it was just 67 degrees Fahrenheit in there, sweat was pouring off me after just a few minutes.
The key repeating exercise I built in has to be the best one of all time…
In fact, it's the best conditioning move you can do… at least I believe for golfers. Why? Because it burns up to 20 calories per minute.
BUT…most people do the Kettlebell Swing all wrong.
I see people in the gym all the time squatting the KB and using their arms way too much.
It's NOT a squat.
It's not a shoulder or arm exercise.
The key is to use your glutes and hips to drive the kettlebell up. Your arms act like a pendulum and go along for the ride. The swing works your core (golf musclez) too.
So when you do swings correctly, you'll not only improve your conditioning, but your golf muscles (core) as well. Here's a workout I created… I cut the time down from what is listed in Core to Score to allow you to work your way up.
Duration: 8 minutes (Work your way up to 18-minutes over the course of a few weeks)
Workout C, Power phase from Core to Score
Endurance Builder

2A) Swing (KB) x :20 seconds, :10 second rest
2B) Close Grip Pushups x :20 seconds, :10 second rest
2C) Swing (KB) x :20 seconds, :10 second rest
2D) Mountain Climbers x :20 seconds, :10 second rest
2E) Swing (KB) x :20 seconds, :10 second rest
2F) Hand to Hand Touch x :20 seconds, :10 second rest
2G) Swing (KB) x :20 seconds, :10 second rest
NOTE: Set a timer for 8-minutes. Complete the circuit as many times as possible
for 8-minutes, resting 30 seconds before repeating the superset. 
Of course, this is just one workout from Core to Score and a more advanced workout you can find in:
Click Here to get your copy of Core to Score <== For Maximum Power and Endurance
According to the American Council on Exercise using a kettlebell burns up to 20.2 calories per minute.
…and how many calories per minute do you burn on a treadmill? … on average… 5.
Let's do some math…
8 minutes x 20 cals = 240 calories in 8 minutes
30 minutes x 5 cals = 150 calories in 30 minutes
Enough said. I think you get the picture.
These workouts are not just proven by scientific research, but also by the thousands of happy GetGolfFit customers that have used our programs. Check out some endorsements below my signature of happy clients…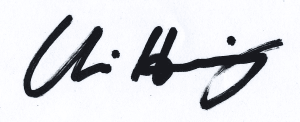 PS – Click Here to Learn How to Do the Kettlebell Swing <= Video and Instructions