At your job, have your colleagues piled job upon job on your plate until you felt like you were barely treading water? Pulled in every direction, yet making little to no progress.
You feel a sense of helplessness… and eventually, you start to get burned out and believing you will NEVER get caught up.
Maybe your golf game is in a similar state? If so, it's not your fault!
In my opinion, the major golf publishers are RUINING your enjoyment of the game and STOPPING your progress from achieving a single digit handicap.
The major golf publications and TV network don't want you getting better.
It's true.
The day you walk onto the course and shoot an even par round, you will stop reading magazines, books, listening to golf channels videos, or whatever…
As long as they can keep your brain clouded you will keep buying from them.
I have a different approach I call "Make Your Own Luck".
The cornerstone is the disciplined pursuit of less.
Less but better.
This idea is out of place with golfers and it is my goal to bring focus and clarity back to your golf game. Simplicity.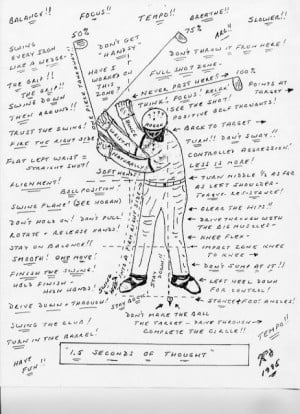 You will never get better…
… chasing your tail.
… reading every golf magazine, tip, book.
… watching tv shows with golf fixes or tips.
… aimlessly slapping balls.
… relying on equipment.
… having an open mind to everyone with an opinion.
Sometimes you just need a simple plan and the ability to say NO.
To be frank, when I started saying NO to distractions, new equipment, and tips… my game improved within a week.
I decided to FOCUS on one task at a time… and then I started to get better.
LESS BUT BETTER.
For example, when I wanted to improve my chipping – I worked on one thing… one seemingly boring thing… and I got better almost overnight.
I eliminated over thinking, over analyzing, keeping my mind open to anyone with an opinion of what was wrong with my swing or game…
… and that's the idea behind Golf Aggressive – simplicity and clarity.